It's Time to Party with Ninja Generations
Looking for a unique and entertaining place to host your child's birthday party?
Ninja Generations is a one-of-a-kind facility that provides hours of fun, exercise, and safe play for your kids! Birthday parties at Ninja Generations include private party room access and individualized gym time with our top instructors.
When you book a party at Ninja Generations, the first hour includes instructor-led open gym time, exclusive ninja warrior obstacle courses, and mini-competitions. The last thirty minutes is dedicated to
food, presents, and personal time in the private event space for your group. Birthday parties can be scheduled on Saturdays and Sundays only to ensure exclusive gym access.
Participants must be 5 years or older to participate in gym activities.
As a party favor from Ninja Generations, each participant will also receive a free class or open gym pass for themselves and a friend to use together in the future.
"Birthday parties at Ninja Generations really are the best way to celebrate," says Ninja Generations owner Sean Noel. "You get to take over the gym with your closest friends and explore all aspects of the facility with some custom courses for your party!"
In addition to birthday parties, you can book corporate events, team bonding, and cross-training with your sports teams or dance groups. Similar to birthday parties, these 90-minute group events will
include an hour of team building, ninja warrior obstacle courses, mini-competitions, and instructor-led open gym time, with the last 30 minutes reserved for time in a private party room.
Event groups may bring food/drink to the private party room. If all participants are over 21, groups may bring alcoholic beverages.
Each participant will also receive a free class or open gym pass for themselves and a friend to use together in the future, too.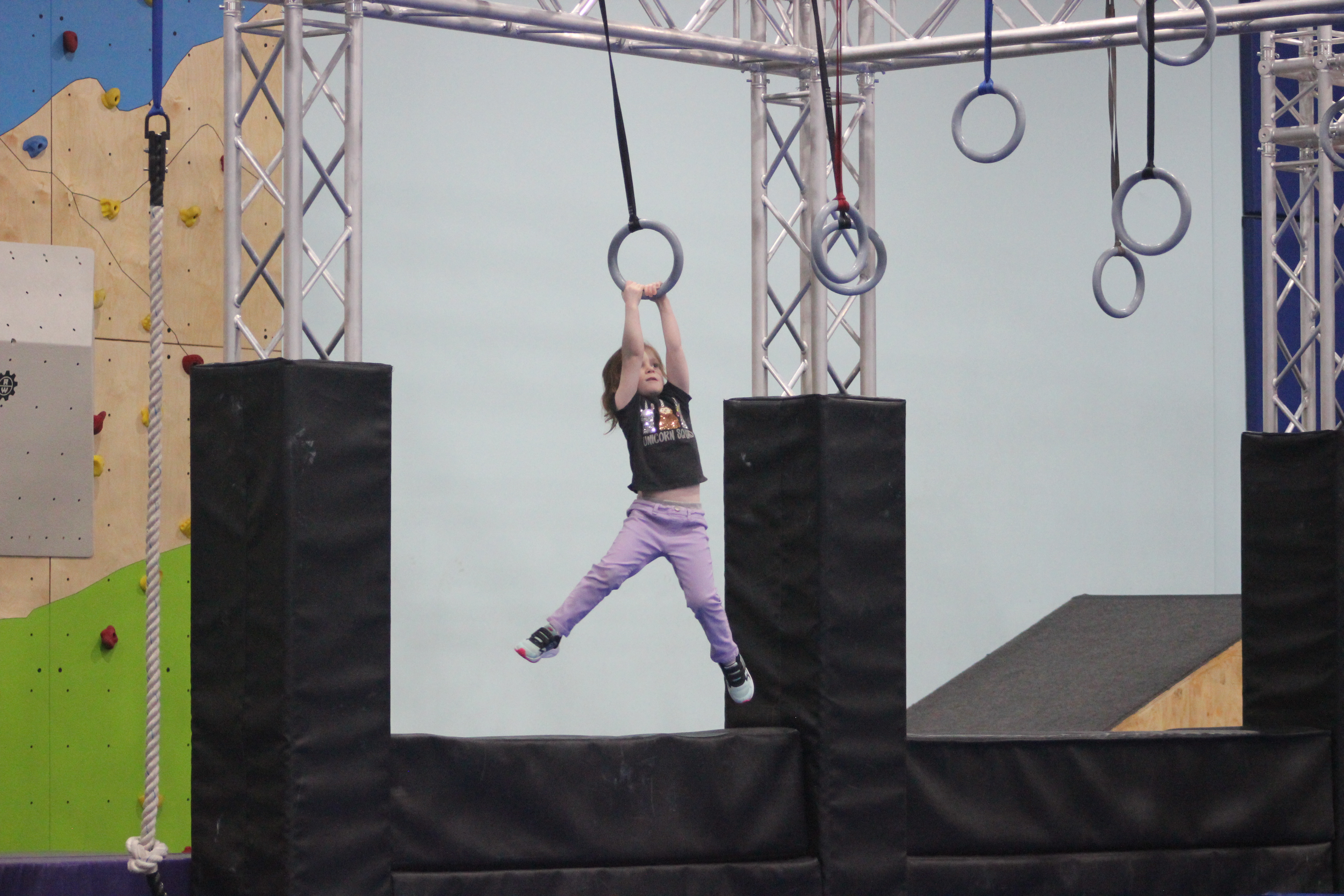 Summer camps are still open for enrollment, and run June 6 until August 12. The courses and obstacles will rotate weekly, as well as a theme on Fridays to tie up the week, giving each session a completed personal touch.

Open Gym is available Monday-Saturday, for ages 5 - 13+ during which participants may play and train on their own or participate in games with the instructors.
Don't forget recurring Flip Clinics that happen every third Friday from 6-7pm. Flip Clinics are designed to build strength, mobility, and confidence for all ages. With beginners starting with the basics and focusing on safety and fun, the intermediate and experienced athletes, will refining current skills and take their abilities to the next level.

Keep an eye out this summer for "Ninjas Night In, Parent's Night Out" every first Friday of the month! This Friday night kids party from 8-10pm gives parents/guardians a night out without having to worry what their kids will do to burn off some energy. The kids will have obstacles, mini-competitions, games, pizza, and videos throughout the night while parents may explore local hot spots like Bridge Park in Downtown Dublin. The first event will be held on July 1.

During the school year, the try-out based competition team, Team Generations, trains during the weekdays to prepare for competing in National Ninja League (NNL), Ultimate Ninja Athlete Association (UNAA), and many local or national Ninja competitions.

Registration required for events.
BIRTHDAY PARTIES AT A GLANCE
DURATION: 90 minutes
INCLUDES: Instructor-led gym time, obstacle courses, mini-competitions, access to party room for
duration of event
TIME: Saturdays & Sundays only
PRICES: Parties of 10: $150; Parties of 20: $300; Parties of 30: $450
Location:
9375 Dublin Rd, Shawnee Hills, OH 43065
Contact:
(614) 389-2424
info@ninjagenerations.com
https://ninjagenerations.com/summer-camps/
About Ninja Generations:
Ninja Generations offers the opportunity to experience and train on obstacles as seen on NBC's "American Ninja Warrior" TV Show! From gymnastic mats, monkey bars, rock climbing walls,
trampolines, balancing beams, parkour platforms, to an 18′ warp wall, our facility has it all. Whether you are a beginner or an experienced veteran to the sport, we have the people, equipment, and culture at this facility needed to reach your personal goals! Sean Noel, a Hilliard native and the owner of Ninja Generations, knows a thing or two about what to expect on NBC's "American Ninja Warrior." Having appeared on seasons nine and ten of the national competition, Sean wants to share his expertise in ninja-style obstacle courses and training with the community. With well-designed replications of American Ninja Warrior courses and obstacles created for beginners, Sean has created an environment perfect for all levels of fitness.